Act Now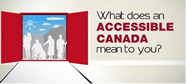 The Government of Canada is leading consultations to inform planned accessibility legislation.
In-person sessions are coming soon to your community. Now is the chance to have your say. Read more.
Sign Up for a Voice of Our Own
A quarterly newsletter from CCD.
The Canadian Museum For Human Rights: A Beacon of Access and Inclusion
For Immediate Release: September 18, 2014
The Council of Canadians with Disabilities (CCD) enthusiastically welcomes the opening of the Canadian Museum for Human Rights (CMHR). "The CMHR's commitment to access of persons with disabilities is exemplary and sets new standards of inclusion," stated Tony Dolan CCD National Chairperson. Mr. Dolan will attend the opening ceremonies as will CCD's National Coordinator Laurie Beachell.
CCD has embraced the Museum from its outset and has worked diligently for many years to ensure that not only is the disability rights story told but that all stories are told in ways that all can access. "CCD recognized from the outset that the CMHR will educate, share understandings and touch the hearts of individuals and thus create a more inclusive and accessible Canada," stated Laurie Beachell, CCD National Coordinator, member of the CMHR Content Advisory Committee and connected to the Museum's Inclusive Design Advisory Committee.
"The Museum will be a place of not only sharing our histories and struggles for equality but a place that educates a new generation to a fuller and ever evolving understanding of equality," stated Jim Derksen, a founding member of CCD, long time human rights advocate and Member of the Human Rights Advisory Committee to the Museum CEO.
CCD thanks Gail Asper and family, all levels of government, the thousands of volunteers willing to share their story, and the dedicated staff of the Museum for exceeding our expectations when we began this journey some years ago. It is time now to celebrate the opening, to applaud and cheer for what has been accomplished and to renew our commitment to collective and collaborative efforts that will strengthen our understanding of human rights and equality.
-30-

For More Info Contact
Tony Dolan, National Chairperson, 902 626-1752 (cell)
Laurie Beachell, National Coordinator, 204 -947-0303 (office) 204 981-6179 (cell)
Jim Derksen, CCD Member, 204 786-7937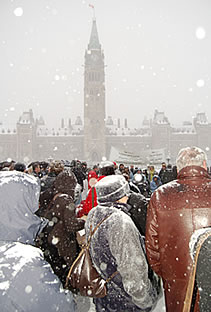 End Exclusion supporters rally in support of an accessible and inclusive Canada.