Act Now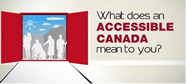 The Government of Canada is leading consultations to inform planned accessibility legislation.
In-person sessions are coming soon to your community. Now is the chance to have your say. Read more.
Sign Up for a Voice of Our Own
A quarterly newsletter from CCD.
Home Supports
Home Supports are personal, non-therapeutic assistance provided to people with disabilities outside of institutions. They assist people with disabilities in many aspects of their lives, including at home, in the workplace, and in the community to meet personal, employment, education, health and social goals. Home supports include assistance with washing, dressing, meal preparation, homemaking, shopping, paperwork, attending community events, etc. Home supports are a component of disability-related support.
Public policy on home supports is very important. Although home supports are delivered by the provinces, home support policy is of national significance. With the aging of the population, home supports will be of critical importance to many Canadians.
Recent Work
December 2, 2009
CCD is hopeful that the attention being focused on the benefits of technical aids in the area of elite sports translates into increased support for public programs providing technical aids to Canadians with disabilities. Read more.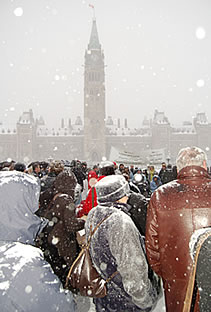 End Exclusion supporters rally in support of an accessible and inclusive Canada.