Act Now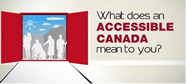 Empower U: Learn to Access Your Disability Rights Training on Canadian Human Rights, the Convention on the Rights of Persons with Disabilities (CRPD) and its Optional Protocol (OP) training aims to increase awareness of how to address discrimination using more familiar Canadian human rights laws such as Human Rights Codes and the newer international Convention on the Rights of Persons with Disabilities (CRPD). This is training for persons with disabilities by persons with disabilities. The training is part of a project funded by Employment and Social Development Canada and implemented by the Council of Canadians with Disabilities (CCD) in collaboration with Canadian Multicultural Disability Centre Inc. (CMDCI), Citizens With Disabilities – Ontario (CWDO), Manitoba League of Persons with Disabilities (MLPD) and National Educational Association of Disabled Students (NEADS). Read more.
Sign Up for our monthly digest
A monthly newsletter from CCD about what is happening in the community
Questions for You to Ask Federal Election Candidates (Access, Inclusion and Participation)
Access, Inclusion and Participation
Will your party commit to improving access and inclusion of people with disabilities, particularly women and girls with disabilities and others facing multiple forms of discrimination, by:
Creating new access regulations for federally-regulated transportation systems, telecommunications and the National Building Code? (CRPD Article 4, 9.)
Expanding funding through the Social Development Partnerships Program – Disability Component to strengthen the capacity of the disability sector to build national partnerships and leadership on inclusion, access and participation? (CRPD Article 29, 33)
Re-establishing the Court Challenges Program for equality rights test case litigation? (CRPD Article 5, 13)
Giving ASL/LSQ official language status? (CRPD Article 2, 21)
Increasing the capacity of people with disabilities, families and caregivers to meet disability-related, respite and palliative needs? (CRPD Article 19)
Inform Candidates about Access Barriers
People with disabilities who receive only some or none of the help they need with everyday activities are more likely (24.8% and 35.8%, respectively) to have a low income than people with disabilities who do not need or receive any help (16.8%). Only 18.5% of people with disabilities living in low-income households reported receiving all of the support they need with everyday activities. (Disabling Poverty, Enabling Citizenship)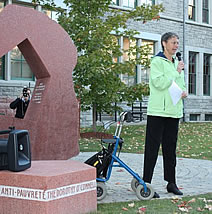 Marie White, a former Chairperson of CCD, addresses anti-poverty rally.