Act Now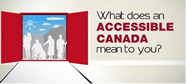 The Government of Canada is leading consultations to inform planned accessibility legislation.
In-person sessions are coming soon to your community. Now is the chance to have your say. Read more.
Sign Up for a Voice of Our Own
A quarterly newsletter from CCD.
Canadians with disabilities recognize political allies, denounce the 'welfarization' of disability benefits
OTTAWA, ON, November 2, 2011 – The leaders of more than 50 organizations representing Canadians with a range of disabilities are gathering in Ottawa to recognize politicians from across the political spectrum who have helped end the exclusion of people with disabilities from the mainstream of society. At the same time, they will hear from a former Ontario government official about the "welfare-ization" of benefits for people with disabilities, many of whom are forced to live in poverty.
"Over the past 30 years, much has been done to improve the status of Canadians with disabilities and we honour the political allies who have contributed to this," says Tony Dolan, National Chairperson of the federally-funded Council of Canadians with Disabilities (CCD). "While we have succeeded in breaking down many barriers, our continued exclusion from the regular workforce means many people with disabilities are forced to rely on social assistance and are subsisting on incomes of less than $12,000 per year."
Political "allies" to be honoured during an evening reception include several former and current cabinet ministers and MPs. Many of their contributions are detailed in a new CCD booklet, entitled Celebrating Our Accomplishments. Politicians being recognized include former prime ministers Jean Chrétien and Brian Mulroney, senators David Smith, Michael Kirby, Hugh Segal, and Serge Joyal, Finance Minister Jim Flaherty, Minister of State for Transport Steven Fletcher, Defence Minister Peter MacKay, Minister of Human Resources and Skills Development Diane Finley. Also to be recognized are former and current MPs Dr. Bruce Halliday, Neil Young, Patrick Boyer, Monique Bégin, Jane Stewart, Andy Scott, Lloyd Axworthy, Wendy Lill, Peter Julian, Judy Wasylycia-Leis, Ken Dryden, Jake Epp, and Don Mazankowski.
Delegates to the one-day End Exclusion symposium on November 3 will hear from a variety of speakers, including a former senior Ontario government official whose keynote address will focus on the rising dependence on social assistance programs by Canadians with disabilities due among other reasons to their exclusion from the mainstream workforce.
"Because they are often excluded from the regular workforce, Canadians who become disabled or those who have disabilities are forced to rely on social assistance programs," explains social policy consultant John Stapleton of Open Policy Ontario. "Over the past five years alone, the social assistance share of total disability income programs has risen to almost 29% across Canada, even higher in Ontario. The clear trend is toward the 'welfare-ization' of disability benefits."
End Exclusion 2011: Building an Inclusive and Accessible Canada is sponsored by the Council of Canadians with Disabilities, the Canadian Association for Community Living and Canada Without Poverty.

-30-

For additional information, please contact:
Laurie Beachell, National Coordinator
Council of Canadians with Disabilities
November 2 & 3 ONLY: 204-981-6179
Office: 204-947-0303
Email: Laurie@ccdonline.ca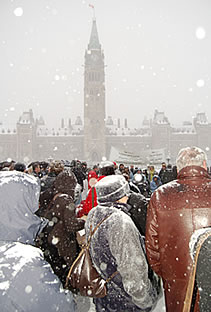 End Exclusion supporters rally in support of an accessible and inclusive Canada.