Act Now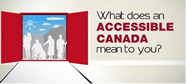 The Government of Canada is leading consultations to inform planned accessibility legislation.
In-person sessions are coming soon to your community. Now is the chance to have your say. Read more.
Sign Up for a Voice of Our Own
A quarterly newsletter from CCD.
Demographic Profile
Recent Work
December 10, 2014
Cam Crawford explained the socio-demographic characteristics of Canadians with disabilities who live in poverty at CCD's Disabling Poverty/Enabling Citizenship Forum on 2 December 2014 in Ottawa. Read more.
November 30, 2013
This report provides a statistical look at the personal income sources of people with disabilities who live in low income households in Canada. These are people who live in "straightened circumstances," are sometimes referred to as living below the "poverty line" and are here referred to as "poor" or as having "low income." Read more.
November 1, 2011
This fact sheet compares the rates at which men and women with and without disabilities experience low incomes. Read more.
More on Demographic Profile
November 1, 2011
November 1, 2011
June 22, 2011
June 22, 2011
June 22, 2011
June 30, 2010