Act Now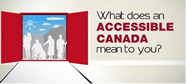 The Government of Canada is leading consultations to inform planned accessibility legislation.
In-person sessions are coming soon to your community. Now is the chance to have your say. Read more.
Sign Up for a Voice of Our Own
A quarterly newsletter from CCD.
Looking Into Poverty: Income Sources of Poor People with Disabilities in Canada
This report provides a statistical look at the personal income sources of people with disabilities who live in low income households in Canada. These are people who live in "straightened circumstances," are sometimes referred to as living below the "poverty line" and are here referred to as "poor" or as having "low income."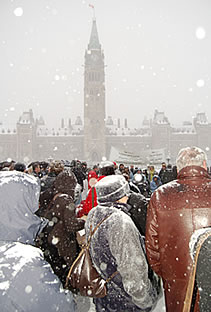 End Exclusion supporters rally in support of an accessible and inclusive Canada.