Act Now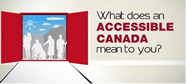 Empower U: Learn to Access Your Disability Rights Training on Canadian Human Rights, the Convention on the Rights of Persons with Disabilities (CRPD) and its Optional Protocol (OP) training aims to increase awareness of how to address discrimination using more familiar Canadian human rights laws such as Human Rights Codes and the newer international Convention on the Rights of Persons with Disabilities (CRPD). This is training for persons with disabilities by persons with disabilities. The training is part of a project funded by Employment and Social Development Canada and implemented by the Council of Canadians with Disabilities (CCD) in collaboration with Canadian Multicultural Disability Centre Inc. (CMDCI), Citizens With Disabilities – Ontario (CWDO), Manitoba League of Persons with Disabilities (MLPD) and National Educational Association of Disabled Students (NEADS). Read more.
Sign Up for our monthly digest
A monthly newsletter from CCD about what is happening in the community
Celebrating International Day of Persons with Disabilities
Comments by Tony Dolan, CCD National Chairperson, at December 3rd Breakfast Hosted by Ministers Flaherty and Kenney.
Thank you Minister Flaherty and Minister Kenney we appreciate your support and willingness to celebrate with us International Day of Persons with Disabilities.
I want to recognize representatives of some other disability organizations who are here with CCD and the Canadian Association for Community Living (CACL).
People First of Canada
DisAbled Women's Network of Canada-Réseau d'Action des Femmes Handicapées Canada (DAWN-RAFH Canada)
Canadian Association of the Deaf
National Educational Association of Disabled Students
Independent Living Canada
Spinal Cord Injury Canada
Canadian Council on Rehabilitation and Work
Neil Squire Society
If we take the long view much has been achieved in making Canada more accessible and inclusive. I remember a time when: there was no accessible transportation, when the built environment created obstacles everywhere, when some were excluded from voting, when TV broadcasts were not captioned, when mental health issues were not spoken about, when families were expected to be the main support, when if you had a disability you did not even consider looking for work, when segregation was the norm. Michael Prince's book "Absent Citizens" sums up in its title the past experience of people with disability in Canada.
But over the almost 40 years of the disability movement in Canada we have come a long way and many achievements can be identified. Some might ask "What was the catalyst for the transformation of our society?" The answer is clear, people with disabilities, their families and their organizations decided to speak out about the inequality they faced on a daily basis. People with disabilities challenged our transportation service providers, our educators, our architects, business, media, governments at all levels and the non- disabled public to think differently about who we are and what we are capable of. That catalyst "the voice of people with disabilities" came to be supported but governments and the motto "Nothing About Us Without Us" was made real.
Canadians society is more inclusive and accepting than it once was, but much remains to be done. Sadly many Canadians continue to live in poverty. We must find ways to make our labour force more inclusive and for those who are not likely to be in the competitive labour market soon we must find ways of lifting them out of poverty as we have done with seniors. We must ensure that new technologies do not erode hard won achievements like broadcast captioning. We must find ways to reduce the incidence of disability among Aboriginal People and we must ensure that the specific needs of women with disabilities are understood and addressed.
We are not a simple community, We are a very diverse community and it is equally incumbent on our community to collaborate and bring forward consensus views on how we might move forward. Relentless incrementalism is the name of the game. The world is not going to change over-night but if the voice of people with disabilities is supported to be a part of broad human rights and social policy dialogues we can make Canada a country where regardless of disability, all share equally in the goods and resources of our great country.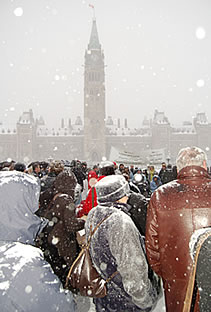 End Exclusion supporters rally in support of an accessible and inclusive Canada.