Act Now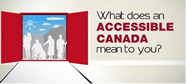 Empower U: Learn to Access Your Disability Rights Training on Canadian Human Rights, the Convention on the Rights of Persons with Disabilities (CRPD) and its Optional Protocol (OP) training aims to increase awareness of how to address discrimination using more familiar Canadian human rights laws such as Human Rights Codes and the newer international Convention on the Rights of Persons with Disabilities (CRPD). This is training for persons with disabilities by persons with disabilities. The training is part of a project funded by Employment and Social Development Canada and implemented by the Council of Canadians with Disabilities (CCD) in collaboration with Canadian Multicultural Disability Centre Inc. (CMDCI), Citizens With Disabilities – Ontario (CWDO), Manitoba League of Persons with Disabilities (MLPD) and National Educational Association of Disabled Students (NEADS). Read more.
Sign Up for our monthly digest
A monthly newsletter from CCD about what is happening in the community
Reporting the sudden passing of Margot Brunner, Executive Director of Voice of Albertans with Disabilities and beloved CCD Council Member
It is with great sadness that April and I are letting you know about the passing of Margot Brunner, the Executive Director of Voice of Albertans with Disabilities (VAD) and member of the CCD Council.
Margot offered immense knowledge and expertise in a variety of fields. From health care to education and social services, she enabled VAD to offer an elevated level of support to those facing complex societal barriers and push Alberta forward on removing these barriers.
Margot was a very active member of the CCD Council. She was one of the key leaders on our system navigation project and conducted research in Alberta on system navigation. Margot was also working on housing and sat on the Canada Pension Plan Disability Benefit committee as CCD's Representative. Margot was a member of CCD's Elders Council, helping CCD with its "On the Road to Fifty" celebration planning.
Margot has a long history and involvement in CCD. At the June 2006 Annual General Meeting, Margot was elected to the CCD Executive Committee as a Vice Chair, serving with Marie Ryan (Chair), John Rae (Vice Chair), Roy Muise (Treasurer), Pat Danforth (Secretary), Chloé Serradori (Member-at-Large). In the announcement about her election to the Executive Committee, the following information was shared about Margot, "Margot Brunner lives in northern Alberta. She has worked as a student service provider and academic advisor for fifteen years at Grande Prairie Regional College. She holds a Master's degree in Education Administration from the University of Alberta and is currently continuing her education in the health care field. Margot is currently the president of Alberta Committee of Citizens with Disabilities [as VAD was then called]. For the past two summers, Margot has traveled to China to teach and supervise Education curriculum courses and English as a second language."
The following 2022/23 VAD AGM report, reflects Margot's drive and commitment to a barrier-free and inclusive society for all:
Message from the Executive Director – Margot Brunner
This is such an exciting time for the people of Alberta! Political parties are rolling out their election platforms in order to build a strong representation for all Albertans as we go to the polls in a couple of days. No matter the outcome, we are prepared to continue our mission to work towards a province where full inclusion is the norm – not an add on or a second thought. In collaboration with the Alberta Ability Network Human Rights Table, we have worked diligently to drive the Barrier Free '23 project to raise the awareness that Alberta is one of the few provinces that does not have legislation protecting the rights of people with disabilities. We challenge government in constructing a legislation that would allow for a fully inclusive environment – both environmentally and attitudinally. In order to do this, we build collaborative partnerships within our community and invite in any person or group who would like to ensure that their environment is diverse, equitable and inclusive. With the leadership of the Barrier Free Alberta initiative, we are seeking a government who believes that a legislation focusing on inclusion is a necessary component of a democratic society.
Our mission and principles are driven by the Voice of Albertans with disabilities and those who support full inclusion. Our efforts to collaborate have been very successful these past three years during the virtual platform phase of the pandemic. Although we have immensely enjoyed having face to face meetings and fellowship historically, the working groups who we participate with have been ideal for affordability, accessibility and the invitation to diverse groups across the country who we might never have otherwise engaged in because of proximity and cost.
These past three years have given us the opportunity to focus on the role we play in the Province of Alberta and this would not have been quite as possible to do without the pivot to online meetings, Webinars, appointments both provincially and federally. Our immersion into the towns and cities where we hold membership has been essential to build a platform where people with disabilities and stakeholders have had the opportunity to let us know what areas they would like their municipalities to focus on so that there is full and true inclusion for all people who live in Alberta.
None of this could have been possible without the outstanding contribution from the Board of Directors, staff, volunteers, and the membership base. It is your outstanding commitment to our vision and value that makes the work meaningful, passionate and a broad representation of both disability and proximity. For this, I express my wholehearted commitment to you as an agent for change and continuous improvement through our clients, our collaborators and partners, donors, and a reach out to those who seek out navigation towards the successful outcome of Inclusion For All – let's not leave anybody behind. Together We hold the Power.
Margot- you are so right. Together, We Hold the Power. Safe journey, our good friend.
April D'Aubin
Heather Walkus
July 28, 2023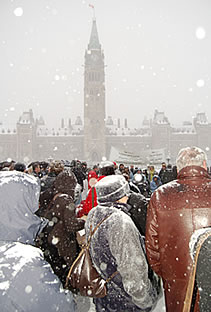 End Exclusion supporters rally in support of an accessible and inclusive Canada.