Act Now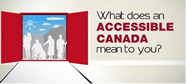 Empower U: Learn to Access Your Disability Rights Training on Canadian Human Rights, the Convention on the Rights of Persons with Disabilities (CRPD) and its Optional Protocol (OP) training aims to increase awareness of how to address discrimination using more familiar Canadian human rights laws such as Human Rights Codes and the newer international Convention on the Rights of Persons with Disabilities (CRPD). This is training for persons with disabilities by persons with disabilities. The training is part of a project funded by Employment and Social Development Canada and implemented by the Council of Canadians with Disabilities (CCD) in collaboration with Canadian Multicultural Disability Centre Inc. (CMDCI), Citizens With Disabilities – Ontario (CWDO), Manitoba League of Persons with Disabilities (MLPD) and National Educational Association of Disabled Students (NEADS). Read more.
Sign Up for our monthly digest
A monthly newsletter from CCD about what is happening in the community
Weekly Email Digest for Information Sharing Purposes August 14 - 18, 2023
Contents
Access
Service and Support Animals in Our Community [City of Pickering, ON] A Monograph
Canada Disability Benefit
Virtual information session on the regulatory development process for the CDB
Medical Aid in Dying (MAiD)
Euthanasia Prevention Coalition Newsletter
Newsletters
Cooperation Canada Newsletter
Disability Without Poverty | Save the Date .
Every Canadian Counts Newsletter
Inclusive Design Research Centre We Count Recount Newsletter
Seniors for Social Action
Webinars
Invitation - Rethinking Crip Ecologies: A Disability and MAD Artists Panel
Opportunities
Appointment opportunity (Member, Copyright Board)
Research on velomobility
Empowering Entrepreneurs with Disabilities: Let's Make Dreams Come True!
VIA Rail - Director Position Outreach
Click on the following link to access the information online:
https://www.pickering.ca/en/living/resources/Programs/Accessibility/SSAI---Service-and-Support-Animals-in-Our-Community---A-Monograph_Final.pdf
Click on the following link to access the information online: Department of Justice Seeks Public Comment on Proposed Rule to Strengthen Web and Mobile App Access for People with Disabilities (access-board.gov)
Employment and Social Development Canada's Office for Disability Issues is pleased to invite you to a virtual information session on the planned regulatory development process for the Canada Disability Benefit. The session will include an overview of the planned engagement activities to inform the drafting of the regulations as well as information on the Government of Canada's formal regulatory process.
As we expect significant interest in this event, we invite you to submit your questions ahead of time so we may be prepared to answer as many as possible in the presentation. Please submit your questions by 5:00 PM EDT August 21, 2023, to accessible-canada@hrsdc-rhdcc.gc.ca if you wish to submit in advance. There will also be an opportunity for additional questions and answers at the end of the session.
This information session will kick-start the regulatory design phase of the engagement, as described in the Department's recent news release on the engagement process.
Details on the session are as follows:
Date: August 23, 2023
Time: 1:00 p.m. to 2:30 p.m. EDT
Place: Virtual meeting via Zoom
The session will be bilingual, with interpretation in both official languages. Please note that as a matter of workplace safety for our interpreters and to ensure they can readily understand the speakers, unless it poses an accessibility barrier, anyone who will be speaking during the session is required to use a head-set or earbuds with a microphone.
In order to manage video conferencing maximum capacity, participation is by invitation. If you would like to be invited to the session, please reply to this email by August 21, 2023, confirming your participation and including the following information in your response:
Your name
The organization you represent, if any
Your email address
Your phone number
Confirmation that you will use a headset or earbuds with microphone when asking a question (or advise if this poses an accessibility barrier for you)
Any accessibility requirements you may have, such as American Sign Language (ASL), Langue des signes Québécoise (LSQ), or communication access real-time translation (CART) services.
Please read and agree to the terms outlined in the attached ESDC Video and Photo Consent and Release Form.
Should you not have access to a printer, please respond to this email confirming that you have read and accept the terms outlined in the form. If you do not wish to provide your consent, please turn your camera off for the duration of the event.
Optional: Your questions on the CDB engagement and regulatory processes.
Those who confirm their participation will receive a link to the Zoom meeting in advance of the session. Due to space constraints, we ask that each organization kindly send only one representative and not forward the link to others. Only registered participants will be granted access to the call. Should you have suggestions on additional organizations to be invited, please feel free to forward these to us directly for consideration.
If you have any questions, please contact accessible-canada@hrsdc-rhdcc.gc.ca .
We look forward to hearing from you.
Sincerely,
Krista Wilcox
Director General
Office for Disability Issues
Employment and Social Development Canada
- Click on the following link to access the information online: California assisted suicide deaths surge. (mailchi.mp)
- Click on the following link to access the information online: Canada's euthanasia (MAiD) program has gone "mad" (mailchi.mp)
Click on the following link to access the information online: Cooperation Canada's Newsletter | Infolettre de Coopération Canada (mailchi.mp)
Click on the following link to access the information online: http://plan-19614238.hs-sites.com/august-2023-newsletter?ecid=ACsprvt-Nfb0i4O5-X-RgOUWxRDfKerxhWDVFVhXqFd6xV0Dq0Q1_SBvyeVt1fGuBso33iIhFaR0&utm_medium=email&_hsmi=271036491&_hsenc=p2ANqtz-_BHRxmTRUNyqwQMuvKHzFwZujZhj6tiAq3E9Ml0jjjNK9GpnkFO0HNYH9V0tw5lCJS75_WsiIKlAqnw8Her4dJKgjZyQ&utm_content=271036491&utm_source=hs_email
Click on the following link to access the information online: link.whc.ca/v/443/e198c6597164de28f5b526dc4577ca92cd81a3a41f95bd50
Click on the following link to access the newsletter online: We Count Recount: July-August 2023 (mailchi.mp)
Click on the following link to access the information online:
Special Zoom Event with the Honourable Dr. Hedy Fry, MP (mailchi.mp)

The School of Disability Studies at Toronto Metropolitan University (TMU) and Art Windsor-Essex (AWE) invite you to a free online public webinar:
Rethinking Crip Ecologies: A Disability and MAD Artists Panel
On Wednesday, August 23rd, from 6:00 - 7:30pm EST, featuring artists Pree Rehal (They/Them), Max Ferguson (He/They), Carmen Pappalia (He/Him) and Ezra Benus (He/Him).
Join us for a thought-provoking virtual panel on Disability and Mad Artists/Crip Ecologies. As part of our collaboration with Art Windsor-Essex (AWE) on the BioCurious exhibition, we invite you to explore the impact of the COVID-19 pandemic and climate change on our world and existence. Engage with our esteemed panellists, participate in a Q&A session, and gain insights into their artistic practices. Don't miss this opportunity to be part of a meaningful conversation.
ACCESS: There will be ASL-English interpretation and live captioning at this event.
Please contact Darren Creech (darren.creech@torontomu.ca) for access inquiries.
TO REGISTER: To register for the event and receive the Zoom link, please visit:
https://torontomu.zoom.us/webinar/register/WN_IEIm_9VNQ6iftEHo7Lt_yA
TMU students organized this event as part of DST 614: Community, Access and Technology, a workplace-integrated learning course offered through the School of Disability Studies.
This event is supported by the School of Disability Studies at TMU, Faculty of Community Services at TMU, Art Windsor-Essex, and Co-operative Education and Work-Integrated Learning Canada (CEWIL Canada).
If you are interested in applying, or know someone that could be, visit the Governor in Council Appointments website.
GIC - Member, Copyright Board (njoyn.com)
Thank you,
Governance Directorate
Portfolio Affairs Office
Department of Canadian Heritage
I am a prof Emeritus in the Faculty of Environmental and Urban Change at York University in Toronto. My research over the past 3 years has focused on the mobility of persons with disability, and specifically the potential of various types of cycle to improve mobility. Attached are 2 recent articles I co-authored on the use of cycles for persons with a disability.
I recently received a grant from the Social Sciences and Humanities Research Council of Canada to examine velomobility (mobility using various types of cycle) for persons with disability. The three main aims of this project are to explore:
(1) the source and diffusion of new designs and technologies for adaptive cycles, with particular emphasis on the role of users in designing and developing these new cycles.
(2) To investigate how such cycles are made, and customized. And (3) to examine how persons with disability (PWD) choose one design over another, their interaction with makers and other users, and the geographical/mobility impact of their purchase.
One of the "end products" of this research (around 2026/7) is an illustrated handbook summarizing in straightforward terms the range of cycles that are available, the disabilities that they are designed to assist, and their approximate cost. When we reach that stage I hope that the Council will help to publicise (?distribute) that handbook to those who are interested.
At this stage I seek the Council's help with one aspect of this research. We wish to interview around 30 persons with a disability who currently use various kinds of cycle for mobility. Do you have a web site where I might invite such persons living in Ontario to contact me? We will pay a small stipend to those agreeing to be interviewed. They will be confidential in-person interviews. I would be very happy to meet with a member of your organization anywhere in Southern Ontario to talk about the project, and/or give a lecture on the history of velomobility to your organization.
Yours sincerely
Glen Norcliffe
Glen Norcliffe D.Sc.
Professor Emeritus, Environmental and Urban Change,
York University
https://gnorclif.info.yorku.ca
You may recall previous correspondence from our Mashup Lab team about the "Entrepreneurs with Disabilities" program—an initiative close to our hearts. This program aims to create a nurturing space for aspiring entrepreneurs with disabilities, helping them achieve their business aspirations while fostering inclusivity in the entrepreneurial landscape.
About the Entrepreneurs with Disabilities Program:
Our program offers a unique opportunity for entrepreneurs with disabilities to access tailored resources, mentorship, and guidance. Through workshops, one-on-one mentor sessions, and networking events, participants gain the skills needed to realize their business dreams.
The Power of Partnership:
We are thrilled to share that this program is made possible through our partnership with the Entrepreneurs with Disabilities Program and Community Futures offices in Western Canada. This collaboration ensures that eligible individuals can participate completely free of charge—an embodiment of our collective commitment to breaking barriers and empowering entrepreneurs with disabilities.
How You Can Help:
Join us in spreading the word about this invaluable opportunity through:
Extend our reach by sharing program details on your social media platforms. You can find posts about the program on our LinkedIn, Facebook and Instagram feeds or, with the attached ready-to-share content and visuals to make it easy for you.
Direct Outreach: If you know of individuals who could benefit from this program, please share the information directly with them. Details and registration can be found at https://www.dreambusiness.ca/edp/. Your recommendation holds the power to be life-changing.
Inclusion in Communications: If you have newsletters, blogs, or community bulletins, consider featuring an article about the Entrepreneurs with Disabilities program. We can provide you with compelling content and success stories.
Making Dreams a Reality:
By championing this program, you contribute to creating a more inclusive and supportive entrepreneurial ecosystem. Together, we can amplify the dreams of entrepreneurs with disabilities and pave the way for their success.
The application deadline is August 30th.
Please don't hesitate to reach out if you have any questions or want to learn more about the program. Your unwavering dedication to our community's positive impact is deeply appreciated.
Warm regards,
Chrystal Remme
chrystal@mashuplab.ca
The reason we have contacted your organization is that the Government of Canada is launching an open selection process to fill a director position on the Board of Directors of VIA Rail Canada Inc.
As such, I want to ensure that you and members of your community/professional network are aware of this selection process and have the opportunity to participate.
VIA Rail Canada Inc. is a Crown corporation that operates the national passenger rail services on behalf of the Government of Canada, offering intercity rail services and ensuring rail transportation services to regional and remote communities. Its objective is to offer a safe, accessible, efficient, reliable, sustainable and environmentally friendly passenger rail service that meets the needs of Canadian passengers.

During this process, our Communications team will have various social media posts promoting the process, looking for applicants. We would like to be able to tag your organization for additional reach and awareness. Our hope is that you could repost or share the social media posts as well as share them with your partners. Our goal is to promote the hiring of people from the four designated groups (women, Indigenous peoples, persons with disabilities and members of visible minorities) in Canada, and we believe your organization could help us with that strategy.
Here are the links to the opportunity:
English: https://pcogic.njoyn.com/cl3/xweb/XWeb.asp?NTKN=c&clid=52106&Page=JobDetails&Jobid=J0723-1311&BRID=233373&lang=1
French: https://bcpgec.njoyn.com/cl3/xweb/XWeb.asp?NTKN=c&page=JobDetails&clid=52106&JobId=J0723-1311&BRID=233373&BPAC=&lang=2
I encourage you to share the information on the notice of opportunity with those who you feel may be suited for this position.
Please do not hesitate to contact me if you have any questions or for further information.
Thank you,
Jessica Pinkham
(elle/she/her)
Manager/Senior Policy Advisor | Gestionnaire/Conseillère principale en matière de politiques
Crown Corporations and Portfolio Governance | Sociétés d'état et gouvernance du portefeuille
Transport Canada
jessica.pinkham@tc.gc.ca
613-794-8441
End of Document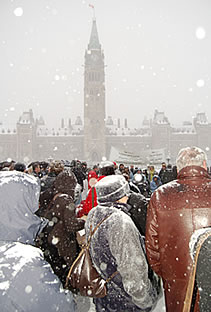 End Exclusion supporters rally in support of an accessible and inclusive Canada.