Act Now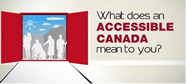 Empower U: Learn to Access Your Disability Rights Training on Canadian Human Rights, the Convention on the Rights of Persons with Disabilities (CRPD) and its Optional Protocol (OP) training aims to increase awareness of how to address discrimination using more familiar Canadian human rights laws such as Human Rights Codes and the newer international Convention on the Rights of Persons with Disabilities (CRPD). This is training for persons with disabilities by persons with disabilities. The training is part of a project funded by Employment and Social Development Canada and implemented by the Council of Canadians with Disabilities (CCD) in collaboration with Canadian Multicultural Disability Centre Inc. (CMDCI), Citizens With Disabilities – Ontario (CWDO), Manitoba League of Persons with Disabilities (MLPD) and National Educational Association of Disabled Students (NEADS). Read more.
Sign Up for our monthly digest
A monthly newsletter from CCD about what is happening in the community
Weekly Email Digest for Information Sharing Purposes August 21 - 25, 2023
Contents
Access
International
Disabled Peoples' International (DPI) convenes Unified World Council Meeting and Elects New Unified World Board of Directors
Newsletters
Cooperation Canada
Disability Vote Matters
Euthanasia Prevention Coalition Newsletter
Institute for Research on Public Policy
Webinars
Conference exploring equitable careers for disabled researchers
Exploring Equitable Research Careers for Disabled Researchers* Online Conference hosted by the Open University on 21.9.23
Transportation
Media Release – Decision Finds Air Canada Must Do More to Accommodate Passengers with Mobility Devices
Opportunities
Gender, Work and Organization Conference Call for Stream Proposals Due Sept. 25
Program Director and Postdoctoral Research Positions in Disability and Faith at Baylor
MiHR Council Study - Career-decision making for Youths with disabilities
August 11, 2023, Busan, South Korea – In a historic gathering, representatives from Disabled Peoples' International (DPI) with a diverse range of disabilities convened at the significant Busan World Disability Conference (BWDC) 2023. Themed "Global Transformational Agenda: Current Challenges and Opportunities," the conference took place from August 7th to the 11th in Busan, South Korea. The event was organized by the Busan Metropolitan City in collaboration with Disabled Peoples' International (DPI) South - Korea, with support from various Ministries and organizations within Korea.
In synergy with the BWDC 2023 and generous endorsement from DPI South Korea, Disabled Peoples' International organized the Unified World Council Meeting on August 9th – 10th, 2023. During this pivotal assembly, 24 distinguished members of the DPI World Council, representing six DPI regions (Africa, Asia-Pacific, Arab World, Europe, Latin America, and North America and the Caribbean), united to vote and formally adopt a unified Constitution drafted by the Unification Coordination Committee. A defining juncture was marked by the election of the new DPI World Board of Directors, responsible for charting the organization's future trajectory.
The DPI Unified World Council Meeting was facilitated by Ms. Francesca Cesa Bianchi, Vice President for Institutional Relations and Advocacy at the Global Initiative for Inclusive Information and Communication Technologies (G3ict), an Independent Observer. Additionally, the elections for the DPI World Board of Directors took place under her expert supervision.
We are pleased to announce the newly elected officials of the DPI Unified World Board of Directors as follows:
President: Trevor Carroll (Asia Pacific)
1st Vice President (Human Rights): Dayana Martinez Burke (Latin America)
2nd Vice President (Development and Under-Represented Groups): Ayassou Komivi (Africa)
Secretary: Isabel Hodge (North America and Caribbean)
Treasurer: Lee Young Seok (Asia Pacific)
Information Officer: Zara Todd (Europe)
Regional Representatives: Sylvana Lakkis and Moaffak Alkhafaji (Arab Region)
As the conference culminated, the newly elected President, Mr. Trevor Carroll, articulated his forward-looking perspective: "This moment doesn't signify the closure of an era; rather, it marks the thrilling dawn of a unified and impassioned grassroots movement that advocates for the rights of individuals with disabilities. Our global community now stands fully represented within the World Board of Directors, a pivotal driving force in our pursuit of the 'Leaving No One Behind' principle. By amplifying the capabilities of our National Assemblies across the globe, we strive for comprehensive societal integration and inclusivity, inching closer to equality with our non-disabled counterparts. With anticipation for collaboration with supporters, international partners, and other OPDs worldwide, we, the newly elected World Board of Directors, are eager to turn this vision into a tangible reality."
About Disabled Peoples' International (DPI):
Founded in 1981, DPI has held the torch, as a pioneering global non-profit, dedicated to translating discussions about the comprehensive and equitable engagement of individuals with disabilities into tangible actions. It remains the singular international cross-disability organization of its kind with its grassroot presence, embodying the collective voice of persons with disabilities worldwide. Presently, DPI spans its influence across 139 countries, facilitated by its Member National Assemblies (MNAs), operating across seven regions: Africa, Arab, Asia-Pacific, CIS, Europe, Latin America, and North America & the Caribbean. The MNAs share a common goal of enhancing the capabilities and empowerment of persons with disabilities within their respective nations, with a notable emphasis on fostering growth in the developing world.
For more details, kindly contact Ms. Isabel Hodge, Secretary, DPI at ihodge@usicd.org.
Click on the following link to access the information online: Member Insights | Aperçu des membres (mailchi.mp)
Click on the following link to access the newsletter online: Happening this week: DMVote update (mailchi.mp)
Click on the following link to access the information online: Euthanasia Prevention Coalition Euthanasia Prevention Coalition: Assisted Suicide is Not The Answer. Killing is Not Caring. (alexschadenberg.blogspot.com)
Click on the following link to access the newsletter online: The latest news from the IRPP (mailchi.mp)
The Open University is hosting a free and inclusive, online conference exploring equitable careers for researchers in academia on the 21.9.23.
In view of the current evidence suggesting many academics choose not to disclose their disabilities for a variety of reasons, delegates will be able to attend anonymously on the day if they choose to do so.
More information about the day and a link to reserve your place below.
Exploring Equitable Research Careers for Disabled Researchers* Online Conference hosted by the Open University on 21.9.23
Join The Open University on Thursday 21 September for a free online conference to discuss strategies for advancing equitable research careers for disabled researchers* . Join us for a day of learning sharing and networking. Our keynote speakers and panellists are experts in their fields and will share insights on disability research and advocacy. Our objective is to showcase best practice and explore the concept of creating a more inclusive and supportive research community with the goal of driving action with tangible outcomes. Connect with others who share your passion for equitable research careers, engage in stimulating discussions, and gather useful concepts. The conference will run from: 9:00am – 4:00pm.
Register at: https://ou-disabled-researcher-conference.eventbrite.co.uk/
*Noting that the term 'disabled researchers' is both contested and also multiple, covering researchers with D/disabilities, neurodivergencies (including autism and ADHD) and/or long-term health conditions.
We are committed to making this event accessible to all. If you have any accessibility needs, please let us know at: next-generation@open.ac.uk
Dr Gráinne O'Connor
Research Assistant
Faculty of Wellbeing, Education & Language Studies,
School of Health, Wellbeing and Social Care
The Open University
Email: grainne.oconnor@open.ac.uk
Mobile number: ++44 (0) 7443223109
Click here to register for our online conference on 21st September 2023
https://OU-disabled-researcher-conference.eventbrite.co.uk
August 23, 2023
The Canadian Transportation Agency (the Agency) released an important final decision about accessible air travel. Air Canada was ordered to make operational changes for services to be more accessible for persons who use larger mobility devices. ARCH Disability Law Centre (ARCH) represented the applicant, Tim Rose, throughout the Agency's process.
In 2016, Mr. Rose was denied access to an Air Canada flight from Toronto to Cleveland because the aircraft could not accommodate his power wheelchair. An Air Canada representative compared Mr. Rose's mobility device to an "oversized bag" and told Mr. Rose that if it could not fit in the cargo area of the plane, he could not book a ticket on the flight. On behalf of Mr. Rose, ARCH filed an application to the Agency, arguing Mr. Rose's right to accessible transportation.
Air Canada operates several trans-border routes that use planes that cannot accommodate larger mobility devices. In its decision dated August 11, 2023, the Agency found that "Air Canada's equipment purchases and planning decisions have created inaccessible routes that may require ad hoc aircraft substitution to accommodate a disability." The decision further states, "[i]t is well established that carriers have a positive obligation to ensure that persons with disabilities have equal access to their services.
In situations where passengers who use power wheelchairs that cannot be collapsed to fit within an aircraft's cargo door, the Agency ordered Air Canada to find an accessible flight or an accessible aircraft for that route. Additionally, the Agency ordered Air Canada to specifically address accessibility for persons who use power wheelchairs in its updated accessibility plan under the Accessible Canada Act.
In response to the decision, Mr. Rose stated, "this case is about the rights of all Canadians who use mobility devices to travel where they want. This case was never about my wheelchair or myself alone. I am proud to have played a small part in the ongoing fight for inclusion of all Canadians, no matter their disability."
"Rose v Air Canada is an important decision that affirms airlines' obligations to remove discriminatory barriers for passengers with disabilities. We are pleased that the Agency ordered important systemic remedies that address Air Canada's accessibility obligations moving forward," said Ilinca Stefan, staff lawyer at ARCH Disability Law Centre and part of the legal team representing Mr. Rose, which included former ARCH lawyers Mariam Shanouda and Jessica De Marinis.
The Agency is expected to publish the decision to its online database in the near future. At this time, we can share the issued pdf decision at Decision. The Agency advised that the pdf is compatible with adaptive technology. If you require an alternate format, you may contact the Agency at Info@otc-cta.gc.ca.
ARCH Disability Law Centre (ARCH) is a specialty legal clinic that practices exclusively in disability rights law. Since its incorporation in 1979, ARCH has been a leader in disability rights advocacy and test case litigation. To learn more about ARCH, please visit ARCH Disability Law Centre.
– 30 –
Contact:
Ilinca Stefan, Staff Lawyer
ARCH Disability Law Centre
Toll-free: 1-866-482-2724 ext. 2225
Email: ilinca.stefan@arch.clcj.ca
Gender, Work and Organization are hosting their 14th International Interdisciplinary Conference 17 – 20 June 2024. They are calling for proposals related to the theme: Imagining Decolonising Knowledge Exchanges: Embracing the Justice, Equity, Diversity and Decolonisation, Inclusion and Indigenisation (JEDDII) Way.
The deadline for stream proposals is September 25, 2023.
Any enquiries, including questions about the call for stream proposals and call for abstracts, about the GWO 2024 conference itself, etc., can be directed to GWO2024@cbu.ca.
A dedicated website for GWO 2024 and a save-the-date landing page are now available.
The website will have detailed information about the conference, registration information, schedule of events, etc., soon., but in the meantime, you can find stream proposal information on our website.
Thanks,
Fran Copelli (she/they)
Research Administrator, Institute for Work & Health (IWH)
Administrative Coordinator, Centre for Research on Work Disability Policy (CRWDP)
400 University Ave., Suite 1800
Toronto, ON M5G 1S5
416-927-2027, ext. 2174
fcopelli@iwh.on.ca
www.iwh.on.ca
IWH operates on the traditional land of the Huron-Wendat, the Seneca and the Mississaugas of the Credit River.
For the latest research and news from IWH sign up for our monthly e-alerts. Follow us on Twitter, LinkedIn, and YouTube.
We are launching a new interdisciplinary initiative at Baylor University focused on disability and faith. Our goal is to carry out research, training, resource development, and leadership that promotes the flourishing of people with disabilities in this area, as well as their families and faith communities. We will be launching new projects focused on the religious and spiritual lives of people with disabilities, the postures and practices of local congregations, the impact of inclusive ministry models, disability theology, and creative partnerships between faith-based organizations and disability service systems. In addition, we will be developing training opportunities and practical resources that can equip churches to faithfully and effectively support ministry with and by disabled people.
We are seeking a Program Director who can lead the day-to-day implementation of this important and influential work. Learn more here:
https://ejof.fa.us2.oraclecloud.com/hcmUI/CandidateExperience/en/sites/BaylorCareers/job/15255
We are also seeking two Postdoctoral Research Associates with expertise and interest in the intersections of religion and disability. These two-year, full-time fellowships will provide rich opportunities to deepen one's research program, develop new topical and methodological expertise, forge new collaborations, and advance inclusive and accessible ministry. Learn more here:
https://ejof.fa.us2.oraclecloud.com/hcmUI/CandidateExperience/en/sites/BaylorCareers/job/151994
Devan Stahl, PhD
Associate Professor of Bioethics and Religion
Tidwell 103.29
Baylor University
One Bear Place #97284
Waco, TX 76798-7284
The Mining Industry Human Resources Council (MIHR) is currently undertaking a study to identify and report on the opportunities for enhanced integration of persons with disabilities in the mining sector through research resulting from a literature review and four (4) focus groups.
One important component of this research will be to examine the career decision points for youths living with disabilities and how these decision points may differ from young persons living without disabilities. Research on this topic will be conducted via a focus group comprised of approximately 8 to 10 youths living with a disability or disabilities.
We are reaching out to see if the Council of Canadians with Disabilities would be interested in being part of this initiative by way of engaging youths with disabilities belonging to your organization to participate in this focus group which will be held virtually on Thursday, September 21st from 1:00 PM – 2:00 PM (EST).
Please let me know if you have any questions regarding this research initiative. We thank you for your time and consideration.
Sincerely,
Victoria Burnie
Manager - Equity, Diversity & Inclusion
Vburnie@mihr.ca
MiHR COUNCIL | CONSEIL RHiM
50 FRANK NIGHBOR PLACE, UNIT 105, KANATA ON K2V 1B9
WWW.MIHR.CA  | WWW.MIHR.CA/FR
End of Document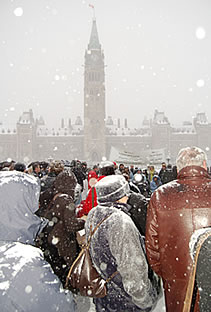 End Exclusion supporters rally in support of an accessible and inclusive Canada.