Act Now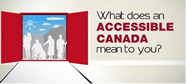 The Government of Canada is leading consultations to inform planned accessibility legislation.
In-person sessions are coming soon to your community. Now is the chance to have your say. Read more.
Sign Up for a Voice of Our Own
A quarterly newsletter from CCD.
Affordable Accessible Housing- A Critical Issue for Canadians with Disabilities
May 6, 2010
For immediate release
The Council of Canadians with Disabilities (CCD) urges all Parliamentarians to support Bill C-304 – An Act to ensure secure, adequate, accessible and affordable housing for Canadians. One of the major issues people with disabilities have is finding affordable and accessible housing. "Too frequently people have no choices and live in housing that is unsafe and marginally accessible," said Marie White Chairperson of CCD.
"All parties should support this legislation. Adequate housing is essential to the well being of persons with disabilities," said White. "Canadians with disabilities disproportionately live in poverty and finding affordable housing is a huge challenge," said Laurie Beachell, CCD National Coordinator.
Canadians with disabilities want a federal government that works with provinces to build more accessible and inclusive communities. "Sadly many Canadians with disabilities end up homeless and living on the street," said White. Bill C-304 is an important initiative in that it will ensure housing strategies include financial assistance for those who are otherwise unable to afford housing and to set targets and timetables to eliminate homelessness.
CCD calls on all parties to support Bill C-304. Affordable accessible housing is an essential need for persons with disabilities.
CCD is a national organization of persons with disabilities that works to build a more inclusive and accessible Canada.
-30-

Contacts:
Marie White, National Chairperson – 709-739-8233
Laurie Beachell, National Coordinator – 204-947-0303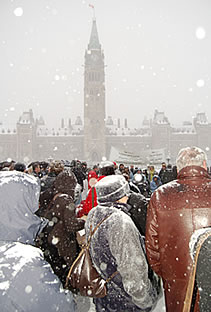 End Exclusion supporters rally in support of an accessible and inclusive Canada.