Act Now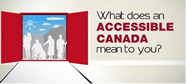 The Government of Canada is leading consultations to inform planned accessibility legislation.
In-person sessions are coming soon to your community. Now is the chance to have your say. Read more.
Sign Up for a Voice of Our Own
A quarterly newsletter from CCD.
Raising Age of Eligibility for Old Age Security Will Prolong Poverty For Canadians with Disabilities
March 21, 2012
For immediate release
Canadians with disabilities disproportionately live in poverty. Sadly many Canadians with disabilities look forward to reaching age 65 and becoming eligible for Old Age Security (OAS) and the Guaranteed Income Supplement (GIS). These two programs provide a better income benefit than any of the social assistance income support programs for Canadians with disabilities. "Raising the age of eligibility for OAS means prolonging poverty for many Canadians with disabilities," said Marie White, Chairperson of CCD's Social Policy Committee.
"OAS changes should not be considered without determining how this program interacts with many other programs to lift people out of poverty," said Tony Dolan, Chairperson of CCD. "OAS does not exist in isolation to other benefits like social assistance, Long Term Disability Insurance, Canada Pension Plan, Workers Compensation, and the age exemption in the tax system," said Dolan.
"CCD will be writing all Members of Parliament in advance of the Budget asking them to consider how any change in OAS might impact persons with disabilities, many of whom have been excluded from the labour market because of barriers," said Laurie Beachell, National Coordinator of CCD. "CCD will be urging MPs to apply a disability len and analysis to future retirement benefit reforms," said Beachell
"New policy initiatives should enhance the status of Canadians with disabilities, not create greater disadvantages for us" said White.
Attached you will find a backgrounder on critical questions to be considered in relation to raising the age of eligibility for Old Age Security.
-30-
For Further Information Contact:
Tony Dolan, National Chairperson, 902-569-2817
Marie White, Chairperson CCD Social Policy Committee, 709-739-8233
Laurie Beachell, National Coordinator, 204-947-0303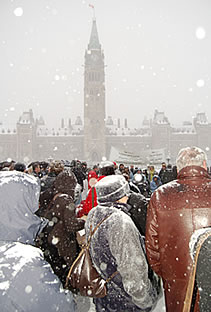 End Exclusion supporters rally in support of an accessible and inclusive Canada.