Act Now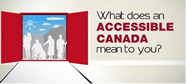 The Government of Canada is leading consultations to inform planned accessibility legislation.
In-person sessions are coming soon to your community. Now is the chance to have your say. Read more.
Sign Up for a Voice of Our Own
A quarterly newsletter from CCD.
Canadian Legal Literature Addressing Social and Economic Rights of People with Disabilities: An Annotated Bibliography
This annotated bibliography is part of a research project examining the possibilities and challenges of using various legal mechanisms to protect and promote the rights of Canadians with disabilities to social and economic security (i.e., to alleviate poverty and to promote equal substantive citizenship of people with disabilities). It is intended as a resource for academics, students, advocates, and community members interested in the role that law has played—and can play—in remedying poverty experienced by people with disabilities. The bibliography consists of summaries of articles, books, book chapters and reports written between 1985 (the year Canada's constitutional equality rights came into force) and 2009 addressing themes such as: disability and equality rights, social and economic rights, and key topical areas such as income assistance, employment, housing, health care, and education, among others.
Download bibliography: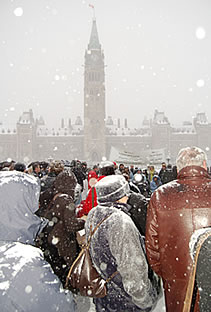 End Exclusion supporters rally in support of an accessible and inclusive Canada.