Act Now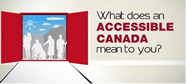 Empower U: Learn to Access Your Disability Rights Training on Canadian Human Rights, the Convention on the Rights of Persons with Disabilities (CRPD) and its Optional Protocol (OP) training aims to increase awareness of how to address discrimination using more familiar Canadian human rights laws such as Human Rights Codes and the newer international Convention on the Rights of Persons with Disabilities (CRPD). This is training for persons with disabilities by persons with disabilities. The training is part of a project funded by Employment and Social Development Canada and implemented by the Council of Canadians with Disabilities (CCD) in collaboration with Canadian Multicultural Disability Centre Inc. (CMDCI), Citizens With Disabilities – Ontario (CWDO), Manitoba League of Persons with Disabilities (MLPD) and National Educational Association of Disabled Students (NEADS). Read more.
Sign Up for our monthly digest
A monthly newsletter from CCD about what is happening in the community
CCD Pushed CMHR to Adopt Universal Design Approach
In January 2013, Stuart Murray CEO of the Canadian Museum for Human Rights (CMHR) announced the Museum had embraced an approach to inclusive design that would set new standards for universal accessibility. For a number of years prior to the announcement, CCD volunteers and staff met with museum officials to make the case why the CMHR's programming must present the disability community's struggle for human rights protection and how the Museum could make access a key component in its business plan.
Even before the first shovel went in the ground, Jim Derksen, John Rae, Laurie Beachell and Clare Simpson shared information with the CMHR, explaining how other museums were making their programming accessible to visitors with disabilities. CCD encouraged that a universal design consultant be brought on board by the project to ensure that access was always on the agenda. CCD made sure that everyone from architects associated with the project to new staff joining the project heard the universal design message.
Laurie Beachell was appointed to the Museum's Content Advisory Committee, where he shared information about key chapters in the disability community's struggle that need to be included in the Museum's programming. The Content Advisory Committee travelled to Canadian communities and heard from Canadians who wanted to share their human rights stories with the Museum. CCD organized its own roundtable for the CCD Council, which was attended by Angela Cassie of the CMHR.
Jim Derksen, a member of CCD's Human Rights Committee, and John Rae, currently a CCD Vice Chair, were appointed to the Inclusive Design Committee.
7 Inclusive design options to look forward to at the CMHR*
The Museum will open in September 2014 and in January 2013 the Museum told Canadians to expect the following access options:
A unique tactile keyboard, conceived by the Museum and vetted by the Inclusive Design Research Centre at OCAD. Incorporated into touchscreen installations, it will enable visually impaired and mobility restricted visitors to navigate digital exhibit information and access inclusive functions without needing to seek assistance.
Film and video that includes open captioning, descriptive video (audio track), American Sign Language (ASL) and Langue des signes québécoise (LSQ).
Positioning of text panels and other visual elements that consider distance and angles for people with low vision lines, such as those in wheelchairs.
High contrast visual elements and text to accommodate low-vision visitors, with consideration to other visual disabilities such as colour blindness or dyslexia.
Staff training that ensures interpretive programming and visitor interactions are inclusive and mindful of a full range of accessibility needs.
Graphic standards that meet or surpass Smithsonian guidelines for text organization and visual presentations that consider features such as easily legible typeface, font size, weight, contrast and proportion.
Consideration of the information needs of people with intellectual disabilities.
(*Source: "CMHR to feature the most inclusive design in Canadian history" 29 January 2014 http://www.ccdonline.ca/en/humanrights/promoting/CMHR-press-release-29Jan2013)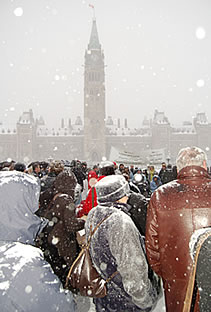 End Exclusion supporters rally in support of an accessible and inclusive Canada.