Act Now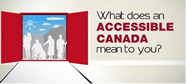 Empower U: Learn to Access Your Disability Rights Training on Canadian Human Rights, the Convention on the Rights of Persons with Disabilities (CRPD) and its Optional Protocol (OP) training aims to increase awareness of how to address discrimination using more familiar Canadian human rights laws such as Human Rights Codes and the newer international Convention on the Rights of Persons with Disabilities (CRPD). This is training for persons with disabilities by persons with disabilities. The training is part of a project funded by Employment and Social Development Canada and implemented by the Council of Canadians with Disabilities (CCD) in collaboration with Canadian Multicultural Disability Centre Inc. (CMDCI), Citizens With Disabilities – Ontario (CWDO), Manitoba League of Persons with Disabilities (MLPD) and National Educational Association of Disabled Students (NEADS). Read more.
Sign Up for our monthly digest
A monthly newsletter from CCD about what is happening in the community
PALS and Data Collection on Persons with Disabilities
May 12, 2010
Hon. Diane Finley
Minister HRSDC
House of Commons
Ottawa, ON
K1A 0A5

Madame Minister:
Re: PALS and Data Collection on Persons with Disabilities
We appreciate the opportunity to meet with you recently and also to speak with you via conference call this week to share information regarding your Department's plans for addressing data collection related to persons with disabilities.
From the call we understand the following:
While you recognize that PALS was a useful instrument, you have directed the Department to develop a data collection strategy that provides more "timely, responsive and flexible" data, and that is more "efficient and inclusive."
PALS will be discontinued and not administered in 2011.
The Department is in the process of designing the new strategy for data collection on the status of persons with disabilities in Canada.
The sample size of the new strategy would be sufficient to ensure the depth of data and data analysis that PALS has provided. Our community would be consulted on the design of the new strategy and end users of the data would also be engaged in its development.
On the conference call you acknowledged some limitations or challenges of a new strategy particularly related to data on children. We would urge you to ensure that the new strategy finds ways of dealing with this need as well as the need for better data on Aboriginal People with disabilities.
While we understand and support the need for good labour force participation and health data, these are only two areas of concern for persons with disabilities. Data on access to services, education, poverty levels, availability of technical devices, sources of income, housing, family relationship, etc. remain equally important to us. You also mentioned the new strategy will have access to CRA data on disability. While this may have some value it must be acknowledged that CRA disability data is based on a more restrictive definition of disability than we would see being used in a new strategy. The CRA data will relate to those who are DTC eligible and equally true is that the fact many people with disabilities do not qualify for the DTC. In fact some do not even apply because while they meet the definition they do not have a taxable income and would get no benefit of the DTC. An ongoing challenge and an area of significant concern for us will be the ability to cross-reference and draw conclusions and comparisons from several separate and distinct survey tools.
PALS has been a very important tool for the disability community and frankly it is the only source of reliable data on persons with disabilities available to researchers, governments and the disability community. Only with good data can good programs be developed and implemented and only through ongoing data collection can we ascertain over the long-term whether programs are having positive impacts. HALS and PALS were developed over the years through supported consultation with our community. We urge you to ensure that the new strategy engages and seeks input from the broad community of persons with disabilities as well as from a technical committee of end users of that data.
We have many unanswered questions at this point in time but are willing to work with you and your officials to explore a new strategy that will provide the value added aspects you identify. We appreciate receiving advance notice on the new direction so that we can advise our community and work with the Department on an effective consultation and design process. We hope we have your assurances that the expertise in the community that has been developed on analyzing PALS data will be drawn upon effectively in the design of the new strategy and instruments. The test for us will be that a new strategy be as good as PALS or better. We will be sharing this letter with members of our community and others with an interest in assuring a strategy that provides data on the status of persons with disabilities that truly is "more timely, responsive, flexible, inclusive and efficient".
Sincerely,
Laurie Beachell
National Coordinator
Council of Canadians with Disabilities

Michael Bach
Executive Vice President
Canadian Association for Community Living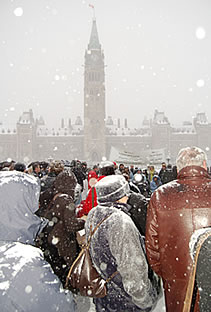 End Exclusion supporters rally in support of an accessible and inclusive Canada.