Act Now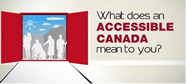 Empower U: Learn to Access Your Disability Rights Training on Canadian Human Rights, the Convention on the Rights of Persons with Disabilities (CRPD) and its Optional Protocol (OP) training aims to increase awareness of how to address discrimination using more familiar Canadian human rights laws such as Human Rights Codes and the newer international Convention on the Rights of Persons with Disabilities (CRPD). This is training for persons with disabilities by persons with disabilities. The training is part of a project funded by Employment and Social Development Canada and implemented by the Council of Canadians with Disabilities (CCD) in collaboration with Canadian Multicultural Disability Centre Inc. (CMDCI), Citizens With Disabilities – Ontario (CWDO), Manitoba League of Persons with Disabilities (MLPD) and National Educational Association of Disabled Students (NEADS). Read more.
Sign Up for our monthly digest
A monthly newsletter from CCD about what is happening in the community
As a Matter of Fact: Poverty and Disability in Canada
Background
Based on the Participation and Activity Limitation Survey (PALS) of 2006, people with disabilities make up 16.5% of the adult population 15 years and older in Canada, or nearly 4.2 million people.[1] PALS is Statistics Canada's 'flagship' survey on disability.
Drawing from the Census of 2006, PALS provides information about people living on low incomes. Statistics Canada classifies families and people who live alone or with non-related others as having low after-tax incomes where they spend 20% or more than the average on food, shelter and clothing.[2] This low-income cut-off (LICO) is sometimes called the 'poverty line';[3] it does not take into account disability-related expenses for medications, services, mobility aids, assistive technologies and other disability-specific costs.
Disability and Poverty
The overall poverty rate for Canadian adults was 10.5% in 2006, comprising 2.6 million people. The Conference Board of Canada recently found that Canada ranks 15th out of 17 countries in terms of poverty among working-age people and gave Canada a 'D' rating on that basis.[4] For people with disabilities the poverty rate was 14.4%, comprising nearly 600,000 people.
Gender
Some 55% of adults with disabilities are women and 45% are men, compared with 50.7% and 49.3%, respectively, of people without disabilities. Among people with disabilities living in poverty, 59% are women compared with 55.4% of people without disabilities living in poverty.
Living Arrangements
Poverty is associated with living arrangements. For instance, amongst people who live alone, 31% with disabilities live in poverty compared with 21.3% of their counterparts without disabilities. More than half of people with disabilities (53.7%) who live with others but not family members (e.g., in shared living arrangements or rooming/boarding houses) have incomes below the poverty line as compared with 36.3% of their non-disabled counterparts. Some 21.3% of lone parents with disabilities have incomes below the poverty line compared with 18.4% of lone parents without disabilities.
Age
Age is also associated with low income. Poverty rates are considerably higher for persons with disabilities up to the typical age of retirement (65 years) then drop to about the same levels as for retirement-aged persons without disabilities.
Type of Disability
Type of disability is also associated with the likelihood of poverty. People with disabilities in the areas of communication (24.1%) and cognition or psychological well-being (learning, memory, Developmental/Intellectual Disability, psychiatric diagnosis—22.3%) are more much more likely than people without disabilities (9.7%) to be living in poverty.
Poverty and type of disability
No disability—Poverty rate of 9.7%
Any disability—Poverty rate of 14.4%
Mobility—Poverty rate of 15.2%
Agility—Poverty rate of 14.8%
Pain—Poverty rate of 15.2%
Communicating—Poverty rate of 24.1%
Hearing—Poverty rate of 10.3%
Seeing—Poverty rate of 17.1%
Any cognitive or psychological—Poverty rate of 22.3%
Employment and Education
Among working-age people (15 to 64 years) living in poverty when PALS was conducted, 23.1% with disabilities were employed compared with 48.4% of people without disabilities and living in poverty. Some 38.4% with disabilities and living in poverty had not graduated from high school compared with 24.6% of their counterparts without disabilities.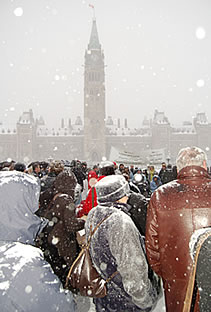 End Exclusion supporters rally in support of an accessible and inclusive Canada.